SportPesa is one of the best bookies in Kenya's betting industry. The analysis shows that almost all punters in Kenya have an account with SportPesa with most newbie punters willing to start their betting venture via SportPesa. Betting with SportPesa has been popular amongst gamble as bettors try hard to get bonuses and other promotional offers by SportPesa. SportPesa Kenya has partnered with a number of football clubs that's locally and internationally. Some of the SportPesa partners are Everton, Arsenal, Southampton FC, AFC Leopards, Gor Mahia FC, and SportPesa sponsors the SportPesa premier league; the current winners of the SportPesa Premier League are Gor Mahia FC. SportPesa Kenya has managed to promote local Kenyan football by organizing playoff matches between the SportPesa league winning team and one of SportPesa's partner team from English premier league. The most recent SportPesa sponsored event was the Gor Mahia Vs Everton match held in Tanzania where Everton won 4-0. By promoting such events and more other SportPesa features, more people have been having the urge to know how to bet with SportPesa.
HOW TO BET WITH SPORTPESA: SPORTPESA HOW TO BET
Betting with SportPesa is one of the easiest experience and thus punters should have in mind details on how to bet in SportPesa that's how to bet online in SportPesa and how to bet via SMS with SportPesa. SportPesa disclaimer on How to bet in SportPesa outlines that only two betting methods are allowed that's via the online portal and via SMS.
HOW TO BET WITH SPORTPESA: HOW TO BET ONLINE IN SPORTPESA
You can choose any market from the wide range of markets offered at the SportPesa website. To be able to bet with SportPesa at ease, one is advised to select the more market option by clicking the icon >, and access all SportPesa betting markets. In case one needs to get, details on the type of market that's an elaboration on what the particular market is about, the punter can click on the symbol (?).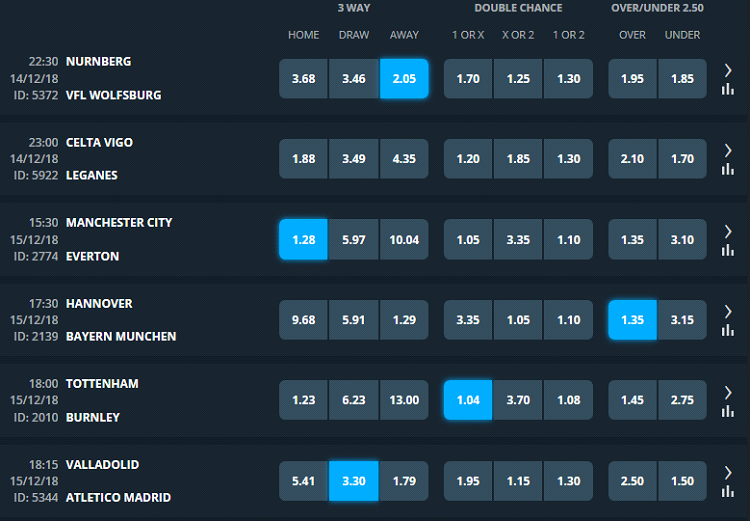 SportPesa allows users to add up to a maximum of 20 events per betslip. One can do Single bet or multibet prediction while betting in SportPesa. SportPesa single bet is placed by selecting a prediction on one match and SportPesa multi bet is placed by selecting predictions on several matches.
HOW TO BET WITH SPORTPESA: HOW TO BET SPORTPESA ON SINGLE AND MULTIBET ONLINE
To bet a single game SportPesa or Multiple games with SportPesa click on the game/games you want to predict on to win. That's either the Home team (Listed first), Away team listed (third in the prediction list) or predict on a draw by clicking on the middle of the two teams to select X (DRAW). If you wish to predict on the additional markets, click on the option for more markets displayed as > (+24,+16,+12, +2, +8 e.t.c ); besides the game, you want to bet on to access the available SportPesa betting options.
SportPesa single bet requires that one chooses only one prediction and a bet slip appears which one can edit to ensure that everything is as they preferred. Then proceed to click the place bet button, a message will pop out prompting the betor to "CONFIRM YOUR BET". You can "CANCEL" and go back to your bet slip, or click "OK".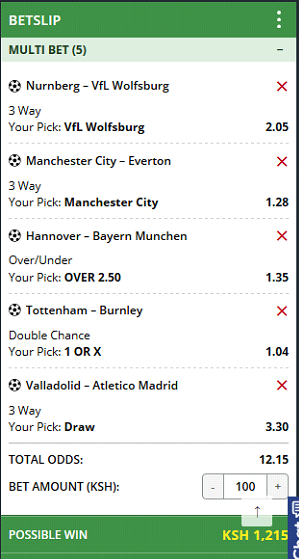 After clicking the "OK" button a confirmation message will be sent to the punter as well as display on the screen after placing a bet with SportPesa showing the game or games selected, prediction made, type of bet that's either single or multibet, amount used in betting, BetID, possible win and user's SportPesa account balance.
HOW TO BET ON SPORTPESA JACKPOT/MEGA-JACKPOT ONLINE
To Bet on SportPesa Jackpot and SportPesa mega jackpot bet, click on the team that you predict to win. Click on either the Home team or the Away team else if you wish to predict that the outcome of the SportPesa Jackpot game will be a draw, click in the middle of the two teams to select X (DRAW). Select the predictions for all the 13 SportPesa jackpot or the SportPesa 17 Mega Jackpot games and a betslip will appear showing all the predictions as well as combinations in case of any.
Click on the place bet button then proceed to click on "OK" or "CANCEL" button. A message will be displayed on the screen showing the placement of the Mega jackpot of the jackpot. One is a SportPesa jackpot/ mega jackpot winner when all their predictions match with the games outcomes. In the case of several winners, the amount will be shared equally amongst all winners.
HOW TO BET WITH SPORTPESA: CONCLUSION
Betting with SportPesa online is one very easy experience as the player only needs to navigate to their most preferred markets then click on the games they wish to place as the prediction. After winning the SportPesa bets, one receives a message informing them of the win that's whether a normal bet or jackpots. After winning the punter is at liberty to withdraw from their SportPesa wallet anytime.