It is a stunning platform in the country with each of its services is way above average; all users are set to find a vast collection of features.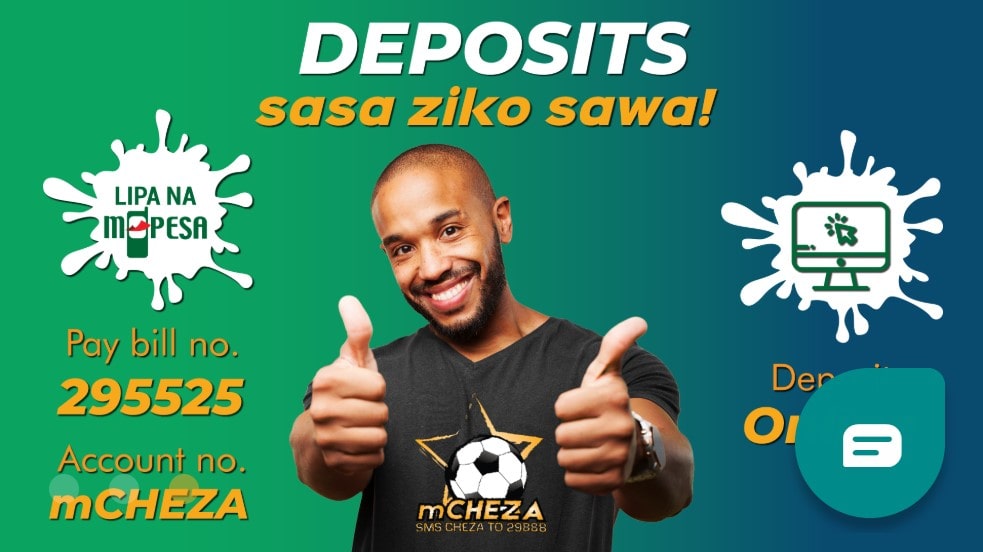 This firm assumes one highly treasured functionality, which is; swift payouts. The delays experienced in other platforms are never subject to this bookie's transactions. It basically seems to have quite standardized transaction limits affecting their high limitations on money transfer from and to user wallets.
How to deposit money to MCheza
Banking via Mpesa is the best payment option any bookie can possibly take. In Kenya, approximately 99% of mobile subscribers have this feature in place for fast and reliable cash transfer. Sending money to this bookie's wallet requires that you be a user, and you can complete your cash transfer through any of the following procedure;
How to deposit on Mcheza:
This is a unique online approach through which a user only needs to specify their stake and click deposit. Then proceed to look into their phone, and if the request went through successfully, you should come across a popup with a pin request. Specify the pin and submit to complete payments.
how to deposit to mcheza at Sim toolkit; safaricom line :
Mpesa
LIPA NA MPESA
Pay bill
In the next pane, that's the business number pane, Use mCheza paybill no 295525
Account number: Empty
Specify transaction amount
Provide pin
Send to get your request processed
How to enroll via a simple text
This might not be the hardest or most impossible thing to do since the bookie's systems have it optimized. It is this simple;
Go to your messages area
Write to 29888 the word 'Cheza'
They should text you with the username and password.
How to withdraw from mCheza
The mcheza maximum payout is Ksh.140000, which remains a big challenge to big cash winners as users are allowed to place bets winning up to 5million shillings.
Nevertheless, you might have to transact your cash in units of 140k until you get all balance out; remember transaction costs are impending in every transaction. To see a transaction through speedily, you need to;
Find the withdraw application area here
Else, locate the transactions icon
Once in the pane, select withdraw
Specify the amount and authorize the processing
Your request should be processed immediately
Alternatively, this works by SMS: send cashout#Amount and send to 29888
FAQ
What is the highest allowed payout?
How Do I withdraw money?
By applying the online withdraw tab or by SMS
How can I transfer to bookie wallet from mpesa?