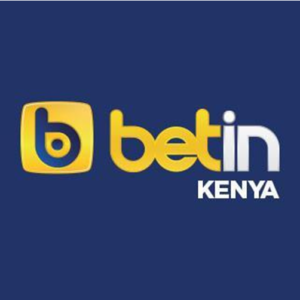 Betin must be the site with the longest history in Kenya. Also it must be the most promoted. I came to know about Betin even before I knew EPL and Barclays Premier League is one thing. Considering it's about one and a half century experience, which is seen in their site layout, odds and promos-that is seasoned and wise-, it's the most advanced betting website in Kenya. By advanced we mean European like. Services include all sports, quite a variety; you shall find Waterpolo and to be honest, that was the first time I have ever heard of it, live betting, virtual sports-could be the only site offering it in Kenya, all casino games, poker and a nice detailed racing panel.
Gamcode Ltd trading as Betin Kenya operates the Betin brand under license by the Logispin Group. It is licensed by BCLB under the Betting, Lotteries and Gaming Act, Cap 131, Laws of Kenya under License n. 830.
Sign up
Visit betin  to register or SMS 'Join' to 29456 and follow the steps.
Features
The Betin layout is not a winner for aesthetics, yet respectable. You cannot complain because you have access of everything from where you first landed, which should call for an ovation considering the numerous services that the site offers, but it doesn't. Ask me and it's too European and I'm too Kenyan. But I love the contrast of the Kenyan map and flag at the feet. Cheeky. All that aside, I like Betin. We all should. Like we love our grannies or seniors. They are just so nice and their gifts are thoughtful even though they are not fun to look at.
Everything however is well laid out. That's where you come appreciate experience. Give Betin's workload to any other Kenyan site and you may create a spill-like mess.
Everything you need to know about the website is also accessible on the homepage under about us.
Its promotional success is due to a unique, perhaps experience-acquired feature of web affiliation. Anyone can become one free and you earn 20% commissions on your players' net losses. Awesome.


Promotions
Jackpots


They have at least a humble jackpot running at each time. 13 pre-selected choices correct for the big price and consolation prizes for 12 and 11. There are also jackpots for horseracing and casino games.
Bonuses
For multiple bets of 1.20 odds and above, and with five selections going up, you get a 5% bonus, increasing by 5% as the number of selections increase up to 14 and 50%.
Variety
Betin must be the dictionary definition of variety. Every sport possible to be betted on, Betin has it. I think its objective is to make online gambling a profession as it is in the West. Casino games are as many as they are in Vegas. Some you learn about them for the first time there in their site. You can navigate their site for ages looking for the next new thing to bet on before looping back. So for pro bettors, this is the best site for you. Just research on games you have never heard of and bet bet bet.
Odds and Markets
You want to be dazzled, dare click an event for the market options. Your finger tires from scrolling down. There must be over 200 of them. Betin has achieved in creating an alternative if not an additional way to add money to your account. Some types of bets are unique to the site. Odds are good, well defined and well laid for you to get attracted to them. This could be distracting to straightforward punters. Too many to choose from. A year ago, when I was betting naïve, I could've been so confused, I would've just left the site.
Mobile Betting
Mobile Website
Fun of the Android app layout or iPhone? Betin adopted that layout for their mobile website version. Not bad but I always take a century to find something in a new Android phone. Other than that everything is quite swift with this version. Easy on the bundles, friend to the impatient while loading. They have integrated everything you need while mobile in the site version meaning you can multibet, special bet and even stream live. Impressive.
SMS Betting
To register SMS 'Join' to 29456, you can bet, multibet, withdraw and access account balance through SMS. Also you could get the day's fixtures.
Live Betting
Betin's live betting is state of the art. The best I dare say. The accuracy and speed of streaming is enticing and the Calendar and Multiview features are just impressive. The pitch imitation is just a sight for those without live actual game picture streaming. Betting itself is nice, well laid out and the odds are okay. I mean you can almost see them play about like NSE monitors. Markets are typical Betin; A lot. Good and some bad.
Banking
Money rendering is safe. Data and services are secured by Dell server and Fortinet Firewall and bear a Thawte SSL encryption. All this happens in Europe for safety purposes. Transactions however support only Mpesa Pay bills. The number is 997270.
Support team
Contact Betin on their Customer Care lines:
0709942101
0709942102
And
 0709942103
 Between 09:00 and 17:00, 7 days a week.
Or email:
Conclusion
Thanks to it's a century and a half experience in Africa and Europe, Betin is one incredible system. Already a dear too many Kenyans and probably deserve it. It sprouts loyalty and though the looks are boring, the granny-like unending stories aren't. So are the goodies.
Nothing to be excited about like custom Kenyan sites like flaring bonanza's and jackpots, just easy going numerous gold pits awaiting discoveries. Therefore it earns third position as one of the best online betting sites in Kenya.
FAQ
What is the minimum and maximum stake for a bet in Sport?
The minimum stake is Ksh50 per bet.
Maximum stake is Ksh500000.
What is the maximum Payout?
The maximum payout is Ksh10 000 000.
Where can I see my bets in Sport?
Go to "My Account" section and click on "Bet List". You will find a list of all bets you have placed, you can filter them by time and by status.
Can I cancel a bet?
No. A confirmed bet cannot be cancelled for any reason.
What is a "Void Bet"?
"Void Bet" means the bet is nil or invalid. This occurs when an event is postponed, or when it has started but not finished within the period specified in our policy.
If a game has been cancelled or postponed there is always a 48 hours wait until the match will be set as void. Once the match has been set as void (with odd 1.00) the rest of the winning ticket will then be paid out