The Mpesa cash transfer method is the most used medium in Kenya, with most of the betting companies relying on it to enhance their transaction ease. To bet with this paramount bookie, you will need to conduct a transaction of your stake, and that can be achieved through several mediums;
Download Betway APP
Betway mpesa paybill, Betway airtel paybill number, or bank cards. For a better experience, while making your payments, MPesa always leads as it is a dominant banking option.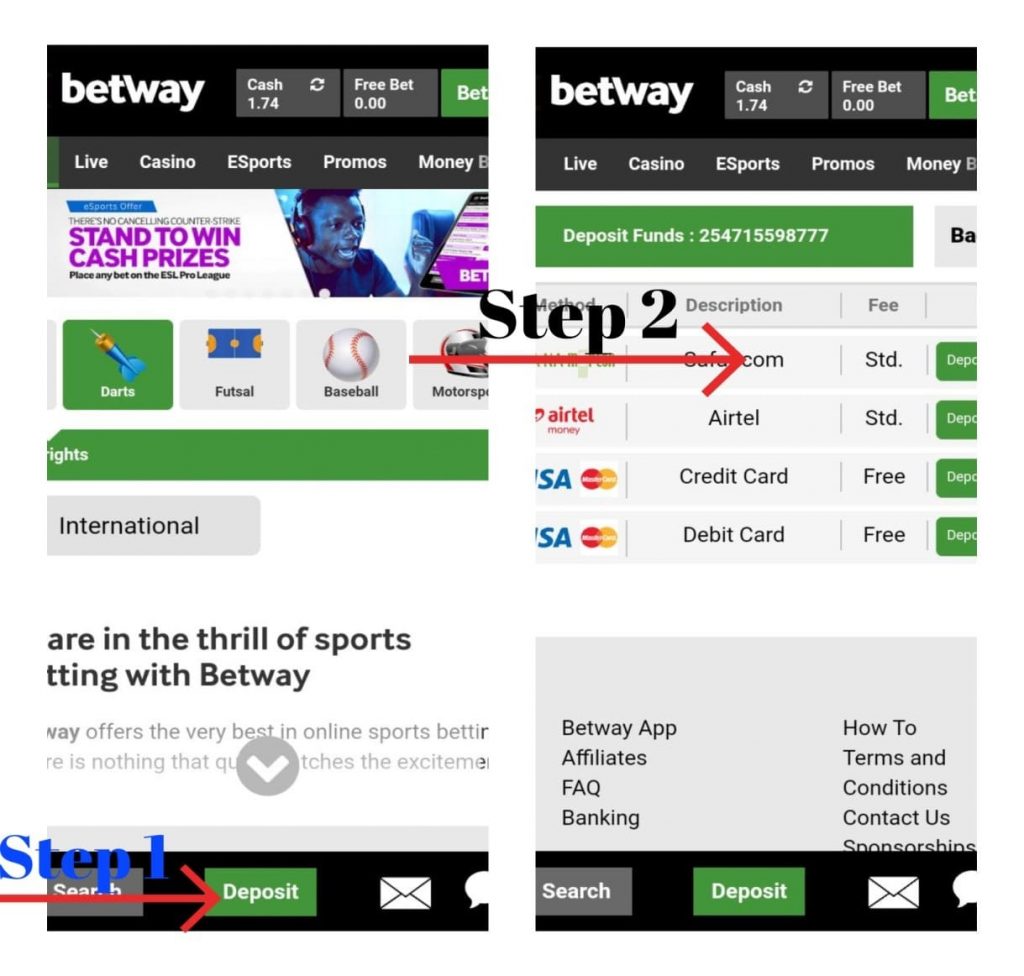 Therefore mastering the Betway paybill number and the entire payment procedure would be a milestone for all users. With MPesa transactions, users are also allowed to conduct online payment using this procedure;
One needs to use the deposit option
Or find it here
Enter the amount in the resulting pane or select from the provided categories
Hit the "Deposit Now" icon
A popup should come into your phone requesting your pin; you only need to enter the pin and send the request. That's a clear indicator of how Safaricom is working closely with this bookie to streamline your payment procedures
To pay via betway pay bill Number:
Betway APP
This approach entirely involves your phone, so follow these instructions to complete your payments
On your phone, visit the Sim Toolkit
Select Mpesa
On the resulting menu, go with Lipa Na Mpesa
Pay Bill
880185: You will need to use this as the business no
Proceed to type the name "Betway" in the account number section; You can also leave this part blank
Input the money to be transferred: Remember that the Betway minimum stake is 49KES, but the least amount you can transact is 10KES
Place your pin
Use the send option to authorize the request
Betway Deposit
This bookmaker has several payment systems, which make it easy for each of its users to have reasonable transaction exposure.

To credit the bookie account, use any of the following approaches:
Mpesa: This cash transfer method assumes all impending standard charges, and the processing time is immediate. Unless there is a system delay, you should receive a notification of the money gained in the company account in seconds. The lowest transferable amount is Ksh.10, and the highest you can send is 70000KES.
Airtel: This is another standard payment method relied on by a good number of Kenyan bettors. If you have money in your airtel line, send money to your bookie wallet using the paybill Betway business number, 880185. Here are the instructions for users making airtel money payments. In your SIM toolkit, select Airtel Money; choose to make payments; go for the pay bill options; Enter business number; on account number leave blank; specify an amount; insert the pin and send the request. Transactions are effected immediately with the amount of the lowest transfer being Ksh.10, and the highest is Ksh.70000.
Credit Card: Their transactions are processed immediately, and there are no transaction fees for a credit card or rather a visa users. The lowest allowable amount is 2KES, and the highest being 1 million Kenya shillings.
Debit card: Like in the credit card bank transfer case, there are no standard charges applied, and the transaction is processed immediately. The lowest transferrable cash is Ksh.2 and highest is Ksh.1000000; this simply implies the company endorses bank transfer which is safe, fast and more authentic
Deposit to betway through Bank cards
With this bookmaker, you will not need to worry about having no money in your Mpesa wallet as the bank transfer approach is at your disposal.
Download Betway Apk
There is no need to transfer cash from the bank to mobile wallets when handling transactions since you can pay directly using the bank visa cards. The allowed visa cards are debit and credit cards:
Credit Card
Visit the window of the payment
You should locate the credit card option and click it
In the resulting field, enter amount and choose to proceed
You will be redirected to a new pane within which you are required to provide your names, Cardholder names, and other card details.
Enter these details and select the "Continue to Pay" option at the bottom
Debit card
Find the debit card payment field
Simply click the debit card option
Enter the amount and proceed
On the next page, enter your card details and personal details for authentication. These details are used to determine whether the card really belongs to the user; hence using your real names during Betway registration remains highly essential.
Continue to pay
Betway Deposit Summarized

Sending money to your wallet is guaranteed with the following payment methods:
Mpesa
Airtel Money
Visa cards: These entail the credit and debit cards
The fantastic thing about all these payment options is that their transaction processing is immediate. The mpesa and airtel transfer methods are the only approaches with standard transaction fees applied, while banking options are free to transfer money.
Betway Deposit Options – Debit or Credit Card
These are the two main banking card methods offering significant transferrable money limits. You can use any of the bank cards as their terms are similar, with the only disparity being the card type.
It is easy to use these cards for any bank account owners willing to increase their transaction capacities. The maximum limit goes up to 1000000KES, which is free of standard charges and is also processed immediately.
Withdrawing Money from Betway to Mpesa
To make a payment from your company wallet to your bank, you must first place a bet. Once you have a sufficient amount, the withdrawing tabs will be availed after clicking here.
You can withdraw using the same payment systems used in depositing cash; bank wire, Safaricom Mpesa, or airtel money. To withdraw:
Visit the bookie site here
Locate the "My Account " option at the top left
Using the above option, get a view of a dropdown menu: These entail a wide range of operations related to your account.
Select withdraw from that menu
Enter amount
Proceed to authorize the operation
Betway Account Verification
Being a compliant bookie to the state's rule, this bookie requires every user to get their accounts approved.

Betway Apk
The verification and approval take place during registration; that's why their enrollment requirement is a little bit different from what other bookies require.
How do I verify my Betway account?
All users are required to have verified profiles before taking part in any business activities with the bookie. The positive thing about this process is that it happens during registration and so it may not be any complicated for all punter levels.

Having verified accounts puts users in a position to benefit from massive opportunities that are uniquely presented to customers. These opportunities should entail massive markets, quality odds, comfortable and boosting gifts, amongst other resources.
To clarify on the verification process, we will need to go through the registration procedure. The verification is mandatory and availed to all new users regardless of the platforms used.
All one needs is to provide correct details, which will be influential when users are making bank transfers and in other general operations within the bookie. To verify your account, apply this procedure in the course of creating your new profile:
Begin by going to the bookie website here or by downloading the app here
Locate the Signup option at your top left
After making this choice, we shall be redirected to the registration window
Step One: Feed in details about your contacts, names and accurately fill any other required fields.
Hit the next option to get to the last verification pane
In this, enter your National ID, nationality (address) and date of birth
FAQ
What is the lowest possible deposit?
The minimum amount varies depending on the used payment method. For transfer methods like mpesa and airtel, the minimum amounts to Ksh.10. On the other hand, bank cards allow up to a minimum of Ksh.2.
What is the highest deposit one can make?
Like in the minimum case, this also varies; mobile transfer methods allow 70000 KES Max while bank cards allow 1 Million
How much money can be withdrawn?
The maximum withdrawal amount per day is 70000KES while the minimum is Ksh.100