Once a champion always a champion, this comes true as the old champion lights up the Old Trafford stadium beating one of the biggest football clubs in English football. Manchester United Vs Chelsea first 2019 season match ended in what seems like a surprise to most football followers.
The much-awaited game of EPL fixtures week one started with an equal performance from both Chelsea and the Red Devils but the turn of events had everyone remembering that Manchester United has always been on form.
Being thirsty for a cup after several fruitless campaigns, Manchester United set their fan's expectations quite high after thrashing Chelsea Football Club 4-0 in this opener match of the season. Manchester United Vs Chelsea game featured multiple chances created by Chelsea's star players who seemed ready to carry the day all along. However, it is not all time you work hard and succeed sometimes working smart would do.
The first goal was a penalty shot which Marcus Rashford a young Manchester United talent was keen to put just enough strength behind it giving Kepa no chance. Rashford took on Red Devil's penalty role during this critical match as the former Manchester United key penalty man, Paul Pogba has set a record of missing or getting overwhelmed by goalkeepers on several occasions.  
Manchester United takes the second position in EPL table just behind Manchester City and in front of the European Champions at the moment, Liverpool Football Club.
Manchester United Vs Chelsea 4-0 review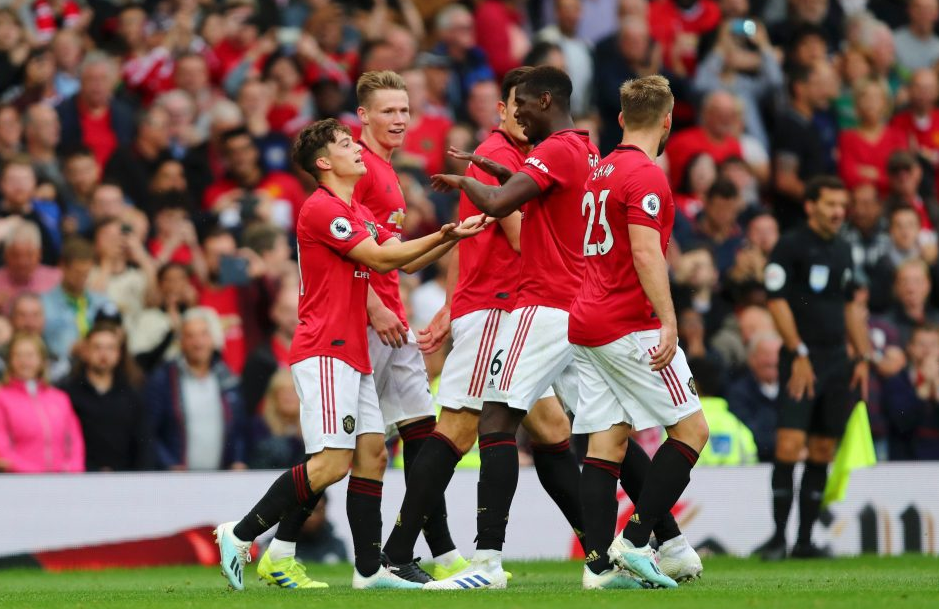 Old Trafford was packed to the brim with thousands of fans coming in to cheer their respective teams. Neve relenting and never giving up Manchester United fans seemed nervous of being beaten at home after their last season's poor performance on several occasions where they drew or got beaten by bottom teams in the EPL table.
This first Manchester United Vs Chelsea game of 2019/2020 English Premier League campaign astonished everyone aware of the Blue's potential. Chelsea ended last season with a comfortable 4-1 win against Arsenal in Europa League Cup Finals. From their Preseason performance, Chelsea was a favorite option in this debut against their host, Manchester United but the Old Champions stood up to challenge reminding all EPL contestants that this is Old Trafford!!
Key Players were lacking from both sides after transfers and injuries. Hazard Chelsea's all-time best scorer left Chelsea FC club for Real Madrid which is obviously one big reason behind Blues showing less attacking. Chelsea will never get over Eden Hazard, fans will live to love, remember and cherish Hazard's moments which no current Chelsea player can match.
David Luiz left Chelsea FC for Arsenal, Luiz cited frustrations from pressure and lose spots he had to secure at Chelsea terming his transfer as a great relief for him. Luiz was in Arsenal's squad as a sub of Gunner's first game of EPL league in which Arsenal won away 0-1 against New Castle F.C.
Despite these two transfers putting Chelsea in a critical situation, Frank Lampard decided not to include Ngolo Kante in his first-tier team, Kante came in as a substitute in their game against Manchester United. The French man would have made a great difference as he is usually a strong game maker in almost all Chelsea big games.
Manchester United did not have Romelu Lukaku who moved to Inter Milan and started off his Serie A career in quite an adorable record of four goals in his first appearance. All in all Manchester United have nothing to lose having Lukaku out as they have a reinforced backline. With their two 2019 summer sign-ins Maguire and Wan-Bissaka happy men after making a clean-sheet in their first game for the Red Devils.
Manchester United Is On Form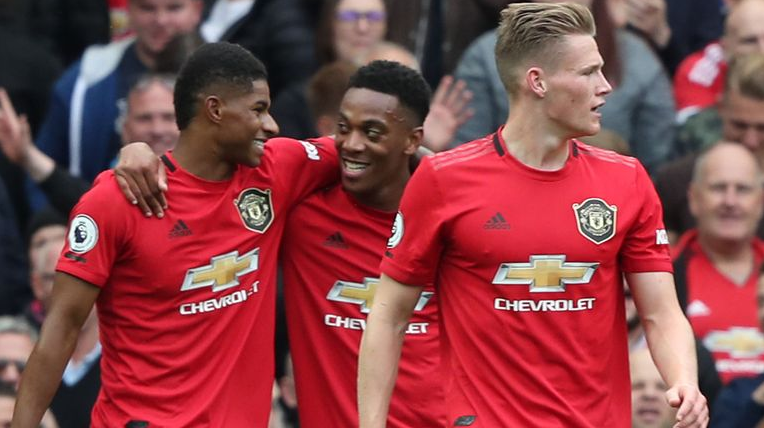 Manchester United the leading team in numbers of Titles accumulated in English Football System had significantly lost their grace and glory. Registering quite unimpressive performance in the 2018/2019 English Premier League campaigns. But once champions of Europe, Manchester United seem to be looking forward to getting back the old glory.
We cannot judge Manchester United's performance at this stage because for sure the Red Devils sometimes are amazing and other times very unpromising. From their First English Premier League this season we are sure to live to tell a different tale if they keep up and maintain that kind of play. Manchester United registers the highest number of world high ranking players who most football clubs of their caliber cannot afford.
Players to watch in the Manchester United squad are; Rashford Marcus, Lingard Jesse, Martial Anthony, Mata Juan, Pereira Andreas, and United's strongman, Paul Pogba. The United's backline is a bit flimsy although two of the defenders are new at Old Trafford and must be still blending into the English Football system.
 Maguire Harry and Wan-Bissaka managed a clean sheet against fierce Chelsea Frontline, however, chances created by the Blues show that there is quite a lot to be done on Manchester United's defense.