As the new English Premier League season dawns, Chelsea Football Club faces hard times despite their agitation to keep the blue color up. With the most recent development around the giant football club's table being the departure of a key defense player; David Luiz who made a forced transfer move to Arsenal. The player is reported to have intentionally skipped some of Chelsea's first-team training sessions citing his unwillingness to be part of the South London team instead opting to play under the mandate of the North, Arsenal Football Club. The blues have a great loss to contemplate on upon losing one quality defender any club would yearn to host.
Why David Luiz Moved to Arsenal in a cheap 8million Emirates transfer deal
Rumor had it that the Brazilian might have felt uncomfortable playing under the management of his former teammate, Frank Lampard. Upon setting foot at Stamford Bridge, the new Chelsea boss was keen to let Luiz go as they had no connection despite having played together in three EPL campaigns. Football analysts went on to cite the David Luiz ability to connect with the gunner's manager, Unai Emery. The duo seems to know each other and understand each other better thus the aging center-back defender will probably have a good time and most probably retire in Arsenal. The 32yr old signed the two-year contract amidst uncertainties as Arsenal and Chelsea fans remained astonished by his decision. Speaking to the Arsenal website, David Luiz, however, rubbished the connection speculations from football fans and followers. He instead stated that his move was influenced by the quest for change and face new challenges engaging a different team, he needed to start a new chapter. Luiz went on to describe himself as a fearless man who is ready for any challenges despite his relieve statement of not having to face Lacazzete anymore.
David Luiz statement at Arsenal website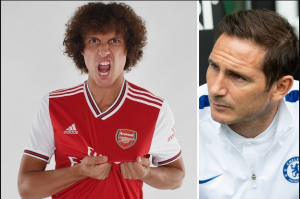 Upon swapping from the Stamford Bridge to the Emirates side, Luiz expressed his delight as he reunites with Unai Emery the Arsenal manager; David Luiz had formerly worked under Unai in PSG. Additionally, Luiz expressed that he is relieved to no longer having to play defense against the talented Arsenal front pair; Alexandre Lacazette and Pierre-Emerick Aubameyang. Recalling his last encounters with the gunners, Luiz spoke of the many spots in Chelsea's back which he had to close each time the Arsenal strikers tried to capitalize on the loopholes. It was not easy for Luiz but considering that he is a stable, talented player with high football IQ Luiz helped Chelsea narrowly escape from Arsenal's daring attacks. Talking to the Arsenal Website Luiz said "It has to be strikers" admitting that the two had given him a hard time down the years when defending for Stamford Bridge. David Luiz pulled the surprising stunt to Arsenal on Thursday 8th August 2019 in an 8 million Euros 2 yrs contract. Luiz must be definitely featured amongst the first Tier at the Emirates and he becomes the sixth Arsenal signing; gunners might have a real crushing for their historical rivals Chelsea in the next encounter. Very few players can have the courage to do what the former Chelsea center-back man did; David Luiz remains a star to reckon in English football and the entire football world as he really knows what he wants and goes for it; his level of courage on and off the field is despicable.