Since the onset of betting in Kenya, the industry has seen a lot of developments with an increased number of people across Kenya embracing betting as a full-time source of income. Betting has become a core activity amongst the youth especially with the current high unemployment rates most people in their early twenties lack the means to earn some substantial amount of cash to cater for their bills. Although politicians and religious leaders keep condemning betting tagging it as a vice which is ruining lives of many Kenyan youths, there are instances of crazy wins amongst the betting population hence encouraging the rest of the gambling proponents. Kenya is considered to be a gambling nation with the betting service providers pocketing millions in cash a phenomenon which prompted the Kenyan government to impose a 35% tax on all won bets. Betting sites have never hesitated to showcase the rare instances of huge and crazy wins as this acts as a marketing tool; recent statistics show that the number of women players in the betting industry surpasses the men's count. This shows that betting has been embraced diversely by all ages, and gender in Kenya's betting sites.
In our biggest wins in betting in Kenya review, we are opting to discuss the instances of huge bet wins in Kenya accumulator bets and then proceed to highlight crazy jackpots and jackpot bonus win witnessed in various betting sites in Kenya. Betting is a real source of income yet a way of risking your money in a bid to consolidate more however it is riskier unlike investing in normal business ventures. Therefore although a good number of people claim to rely on betting to pay most of their bills, we still advise that you make your betting a fun thing and don't be so optimistic hoping to hit huge returns within a short period of time. Also, read our betting guides and get real betting strategies which will help you increase your winning potential and be precise in determining other factors which may influence your selection; the betting strategies will help you in doing formulae betting hence your winning chances won't rely on mere luck or guesswork.
Biggest wins in betting in Kenya
With the huge betting wins we have Kenyan gamblers who hit it large in jackpot related bets which obviously should have led to them making great returns either from getting the entire jackpot plate or some bonus. However, there are other individuals who have proven to be unbeatable as they pinned the bookies by winning colossal amounts of cash through normal accumulator bets using relatively low stake amounts. Kenyans have turned to the betting sites hoping to multiply their money and some have been successful making quite a profit, some have lost and maybe lost terribly in some instances while other bettors have managed not only to win and make huge returns but they have made extraordinary big wins. The other day Betin Kenya rewarded a player a whopping 1.3 million after the player correctly predicted 21 games after staking Ksh.50 which is the least possible stake amount. Also from the Betin Kenya wall of fame, there is a client who did stake Ksh.10000 then predicted on 8 games and ended up winning a colossal amount of Ksh.2.6 million. Those are just but a few of the huge, interesting, exciting and crazy wins witnessed in Kenya's betting industry.
Accumulator bets and jackpot bet winners
Some of the biggest wins in betting in Kenya from normal accumulator bets entail:
Ayub Gitari Muthee

Gitahi a diehard football fan won Ksh.432,000 after playing a multi bet using a stake of Ksh.10. That means the player had his stake multiplied over four thousand times by a new and rapidly growing betting site in Kenya, OdiBets. Ayub Muthee an attendant at a local pub hails from Meru town and couldn't hide his joy upon receiving his wins which he unbelievably garnered from a 23 games accumulator bet using the Ksh.10 stake.
Samuel Abisai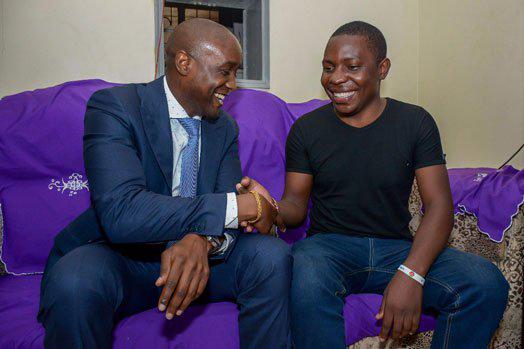 Mr. Abisai hit Ksh.221 million SportPesa mega Jackpot causing a strong wave of interest amongst the Kenyan gamblers as he was the first person to hit the famous SportPesa mega jackpot and following Abisai's win, the number of jackpot players increased tremendously. Most odd-setters have attested to the fact that Kenyans are more into jackpots and accumulator bets owing to the accumulator bonuses availed by the betting service providers. Mr. Abisai's win transformed the fortunate player's life and He first left the country visiting several of his dream places and adapted millionaire lifestyle courtesy of SportPesa Mega Jackpot.
Gordon Ogada

Unlike Abisai, Mr. Oganda's win was not very much popularized however Gordon is the Kenyan holding the record of winning the highest amount of cash in the Kenyan betting industry. Gordon won a whooping Ksh.230 million shillings in SportPesa mega jackpot after staking Ksh.100 which saw him becoming the second millionaire in town yet again courtesy of SportPesa mega jackpot.
Denish Nabish Otieno Lango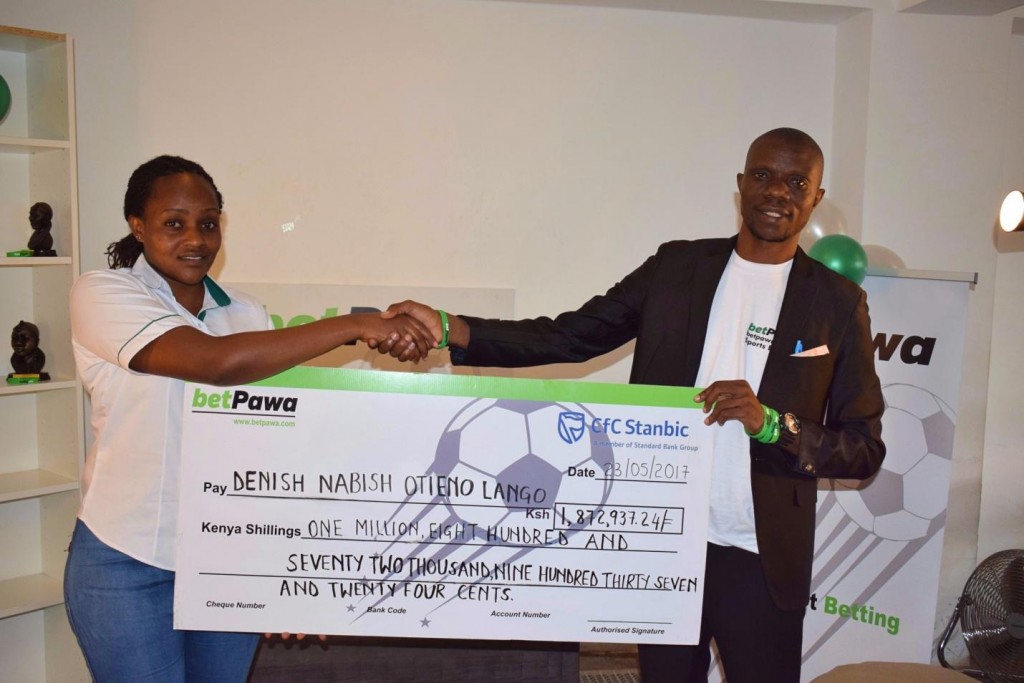 Denish claimed to have used his strategy of creating his own jackpot then staking any amount between Ksh.1-200, a betting strategy which bore fruits after he won over Ksh.1.8 million on his fateful day. Denish had placed a multi bet of 25 matches and staked Ksh.200 hence earning the colossal returns thanks to Betpawa accumulator bonuses which promoted the possible win amount. Dennis had won Ksh.900000 but courtesy of the betpawa 100% accumulator bonus, his possible win hit over 1.8 million Kenya shillings.
Enock Ogega

Enock Ogega is one of the lucky players in Kenya to hit the Ksh.20 million begin Kenya jackpot as lady luck smiled at him on November 2017. The concrete engineer won the Betin Kenya jackpot after playing with a stake of Ksh.99.
Allan Olela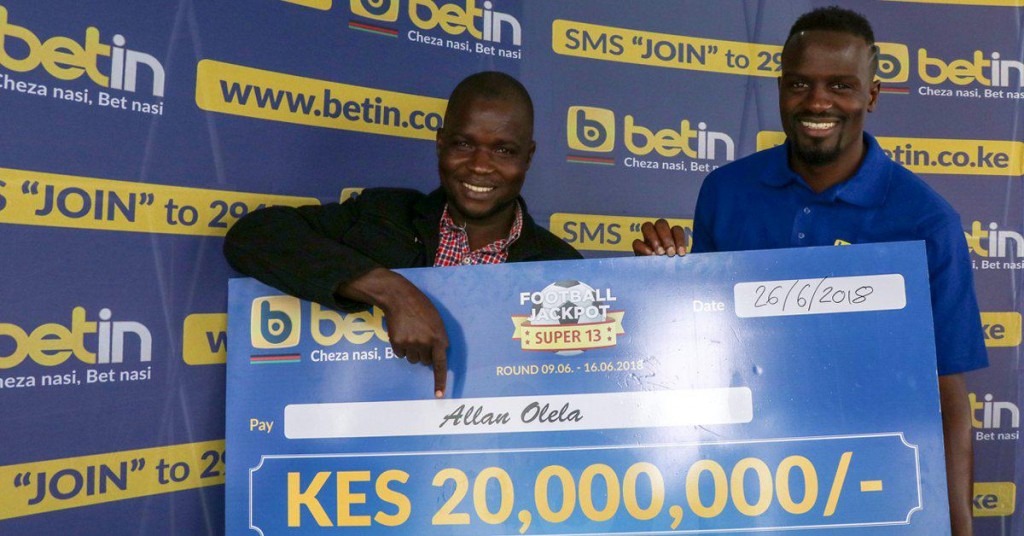 Allan Olela a Nairobi trader managed to hit the Betin Kenya Ksh.20 million Jackpot too and luckily enough the cheque was presented to him by Betin Ambassador and Kenya international midfielder MacDonald Mariga of Spain's Real Oviedo FC. Having been into betting for the last two years that's before the June 2018 win, Mr. Olela felt that he had some extra cash on his fateful day and decided to try the Betin Kenya jackpot and fortunately, it was his lucky day.
Douglas Kaunyangi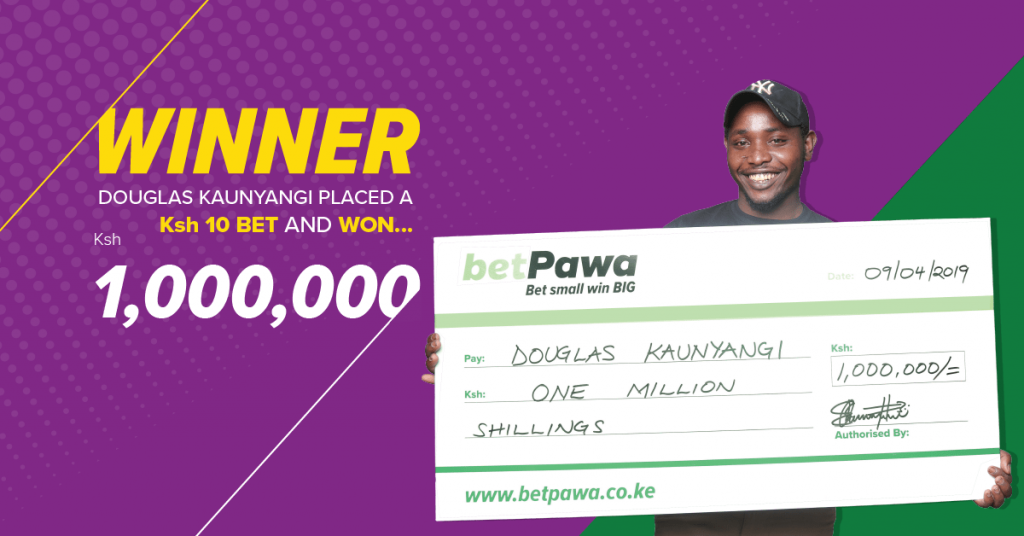 Mr. Kaunyagi won the Betpawa emPawa 13 jackpot where he correctly predicted the outcome of 13 matches and won an amazing Ksh1 million from a stake of Ksh.10. Douglas claimed to have been encouraging by the increasing cases of people winning jackpots and also he is a fan of betting the less costly Betpawa jackpot.
Samuel Githuu Gichuki

Samuel hailing from Nairobi did bet small and win big with betpawa, which saw him taking home Ksh.294,782 in winnings after carefully analyzing and correctly choosing the outcomes for the 10 match accumulator bet he placed a bet on. Interestingly Samuel had placed a bet of Ksh.1 equivalent to $ 0.01 and ended up winning an average of $.2900. That's one crazy win by Kenyan gamblers in the betting industry using such a low stake amount.
Biggest wins in betting in Kenya: Conclusion
There are many other cases of a few Kenyans hitting it big with betting on accumulator and jackpot bets. What can you do to be part of the biggest wins in betting in Kenya? It is very simple, learn, research and analyze bets thoroughly before placing; hence ensuring that every selection you make is worth the bet. Do not let a non-value selection spoil your accumulators hence shattering your dreams of becoming the next millionaire thus ensure you apply formulae betting as well as the betting tips provided by our experts and you will be good to collect your millions within a short while of getting adequate betting experience.