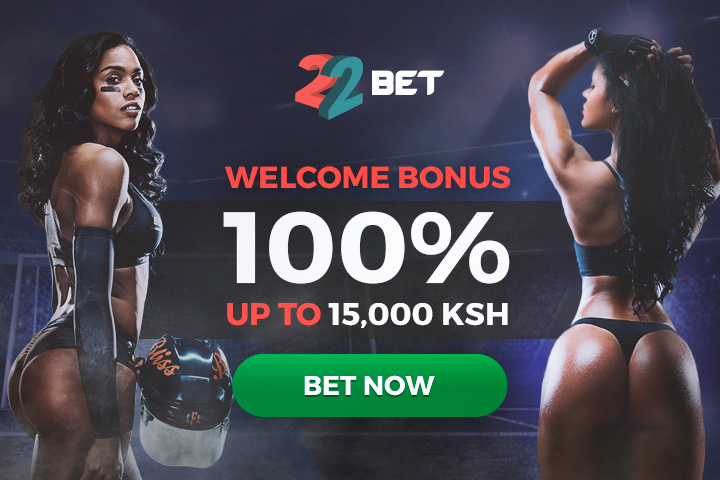 Download 22bet APP
22BET Kenya Mobile App is on and available for all Kenyan punters. The Mobile App (download here) comes with unique features and a spectaculars provision of betting resources. 22bet mobile Application ranks among top betting Apps in the country so far. Adorable technology, entertaining features, and user-friendly interface contribute a lot to a successful bet placing by players regardless of their technological prowess. Online mobile betting is a key influence on a bookmaker's success and 22bet Kenya mobile Application is here to boost their mobile betting resource provision. Unlike browser websites, mobile Applications are precise, discrete and easy to navigate using low data amounts. 22BET Mobile Application also adds to the taste of live betting ventures in sports and casino events. You need to reach out to your account and download the 22bet mobile apk using our well-illustrated procedure under this guide. Let us see how we can download and install 22BET Mobile App in Android and iOS devices.Download 22bet APK
22Bet Kenya: Mobile App betting in Kenya
Mobile betting apps are known to be fast and economical to use in online betting activities. Leading bookmakers have embraced this idea of mobile Application betting to ensure their customers get the best betting experience. Mobile App betting in Kenya has also prevailed significantly with the best Apps availed by 22bet Kenya, 1xBet Kenya, Sportpesa betting site, and Betlion, to mention a few. 22BET Mobile Application uses the latest technology with Appealing graphics and good software to support online sports betting as well as casino betting. With 22bet Kenya mobile Application (click here to download it)
Download and install the latest version of 22bet Kenya Mobile App using our Guide.
Download 22bet APP
Download any version of 22bet Kenya mobile Application in the bookmaker's mobile betting page 22bet. Experience the benefits of using 22BET Mobile App in your Android, and iOS devices anytime, anywhere you go.
Download 22bet APP
Any android device can hold this Application, whether you are using an Android phone or tablet. Provided you are on an Android device, following the procedure below will make downloading and installation of 22bet Android Application APK easy.  
Visit 22bet website in your browser at https://m.22bet.co.ke/
At the top of 2bet Kenya homepage, you will see an INSTALL 22BET APP FOR FREE popup
At the far right of this popup bar, click install.
You will be redirected to 22bet mobile page https://m.22bet.co.ke/mobile/. Alternatively, skip step 1, 2, and 3 by clicking on the mobile page link.
At 22BET Mobile App page select DOWNLOAD THE ANDROID APP to start the download
Go to your Android device settings and allow App installation from unknown sources under the permissions option of your phone.
Click the downloaded https://m.22bet.co.ke/mobile/ to install
After installation, you can now open and login to your account as well as access all 22bet Kenya mobile betting features.
NOTE: 22bet mobile Android App isn't listed at Google so ensure you get it from 22bet Kenya official site using our links.
22bet Kenya iOS App: Download and install 22bet iOS App
Using the procedure used in Android version access of 22bet APk, visit 22bet mobile App page at https://m.22bet.co.ke/mobile/. In other words, step 1 to 4 Applied in accessing this bookmaker's Android App will apply when accessing 22bet Kenya iOS mobile App. Proceed to Click DOWNLOAD IOS APP option which comes just above the Android version download option. You will get the following 22bet iOS mobile App download and installation procedure:
Sign in to your iPhone App store
Click the download option to get the iOS version of 22bet Kenya Mobile App
Proceed to click on the downloaded file to install
Your App is ready!! Open and start enjoying a great mobile betting exposure with 22bet iOS App.
Benefits of using 22bet Mobile betting, i.e. Mobile App
Download 22bet APP
There are many positive outcomes associated with the use of 22bet Kenya mobile Apps with some being general mobile Applications pros while others are unique. Some benefits of using 22BET Mobile Apps are:
Fast, secure and reliable betting
Great online betting features and a tasty software selection
Ease of navigation
Economical, since Mobile Apps consume less data
100% welcome bonus upon registering via 22bet Kenya mobile App
22bet Kenya remains an important entity in the world of online betting and Tech solutions. Get your 22BET Mobile App using our special links and stand a chance to benefit from big prizes, bonuses, and promotion offers.
Download 22bet APP